The dark, violent romp of Sin City returns with Dwight McCarthy. When his new girlfriend Shellie is threatened and punched by a drunk ex-boyfriend, Dwight recklessly follows him to Old Town in order to make sure he doesn't hurt anyone else. In Old Town, "the cops stay out"… which "leaves the girls free to keep the pimps and the mob out."
Miller hasn't just created a world of unrelated events in Sin City. Instead, The Big Fat Kill continues a different story with the familiar character of Dwight, who is a much easier character to root for in this volume. (However, Dwight isn't above hitting women in either volume, which undermines his role as a hero.) Even though Dwight is trying to lay low, he gets tangled up in a conflict between the trigger-happy prostitutes of Old Town, the corrupted police, and a handful of Irish hired killers.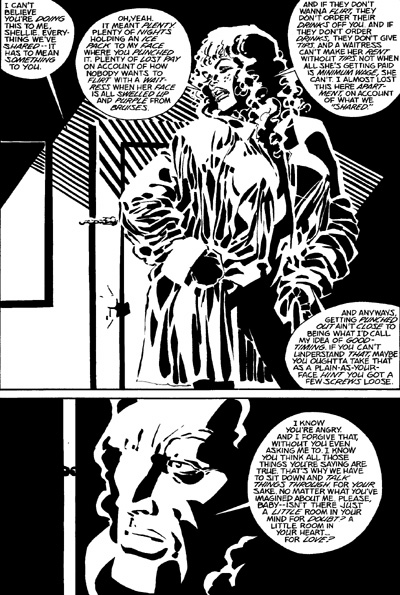 The art continues to be a highly stylized black and white, complete with many unrealistically perky breasts. There's lots of dialogue to fill the negative space, which feels sloppy. The rain effect is particularly nice, but there's not much else new with the technique. Note also that its rained in every issue but Sin City is in the desert, where it rarely rains.
Recommended as another edition of the Sin City series. The story is more interesting than the 2nd volume (hallucinations of talking corpses, creepy abandoned tar pit theme parks, and the deadly assassin Miho) but Marv is still the most interesting protagonist. The most interesting characters aren't highly featured, so don't expect any emotional investment. There's also no real heroism here — this story is pure unrelenting violence.