Volume 6 of the Sin City series strays from the long form of its predecessors and is instead a compilation of short stories that include a mostly new characters with a few visits from previous yarns.  Douglas Klump, Burt Shlubb, Marv, and Dwight return in their own stories, but the emphasis isn't on exploring old story lines. Instead, the new characters and scenes re-capture the mood and atmosphere of life in sinful Basin City.
With the very short shorts, you revel in the cruel, sick, harsh world of Sin City without any character development or plot points whatsoever. For example, the short story "Daddy's Little Girl" is about a couple who lure innocent men into their home just so the guy can get "excited".
Some stories in this volume contain the one pop of a bright color first seen in That Yellow Bastard, which further adds to the already outstanding visual styling. Even without color, other stories like the "Customer is Always Right", a short about a hit man featured in the first Sin City film, is transcribed beautifully from the page and translated nearly shot-for-shot and word-for-word on screen. The rain, the silhouettes, the kiss before the job — it's a perfectly tragic moment.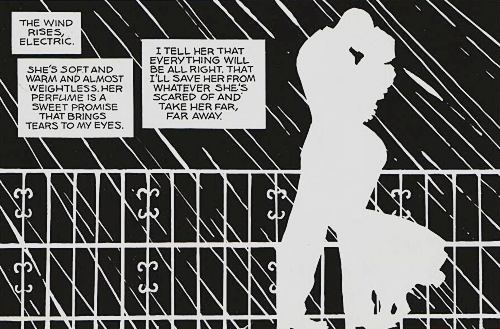 The writing is effective because Miller sticks to what he does best, including heroes that use short powerful dialogue. Recommended for those with the Sin City itch that just can't be scratched. I certainly wouldn't start with this volume because, even within the context of the Sin City universe, all the disparate shorts feel random.